PRESS RELEASE
March 8, 2018
CDC Announces Purchase of 138-Acre Development-Ready Site in Northeast Philadelphia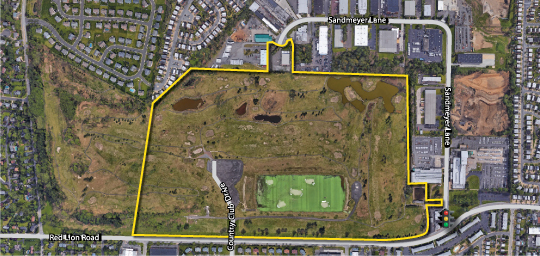 Philadelphia, PA – Commercial Development Company Inc. (CDC) today announced the purchase of a 138-acre development-ready tract of land in northeast Philadelphia. The site was purchased from TEVA Pharmaceutical Industries Ltd., who had once selected this site as an expansion location.
Located at One Red Lion Road & 10098 Sandmeyer Lane, the site has been unoccupied for 8 years. However CDC now believes the timing is right for new development at the site. CDC will develop a market-ready plan to bring in end users who will take advantage of the sites attractive development attributes.
"This is the largest development-ready tract of land in the Philadelphia market," said Steve Collins, Executive Vice President of CDC, "Aside from the size of the property, our market analysis indicates significant potential for development due to the site's location, industrial zoning, the KOZ designation, and access to Philly's strong and skilled workforce."
The I-2 zoning at the site allows for a wide variety of warehousing, distribution, and general industrial uses. Additionally, the site is located in the Keystone Opportunity Zone (KOZ) which is a useful tax incentive program created to attract economic expansion to certain parts of the commonwealth.
CDC's site plan includes three modern industrial buildings totaling up to 1.85 million sq/ft. Brokers suggest the market demand for modern industrial space and the strong workforce available in northeast Philadelphia could make the Red Lion Road site a new economic development and employment hub for the region.
CDC's Regional Footprint
Over the past few years, CDC has invested in other brownfield development projects in the Greater Philadelphia region. In 2016, CDC purchased a former Congoleum manufacturing site in Hamilton, NJ which is now being developed into a mixed-use project adjacent to the Hamilton Train Station.  In 2015, CDC purchased the 425-acre former Evraz Steel Mill site in Claymont, DE which is currently being developed into a multi-modal office and logistics center, which includes the relocation of the Claymont Train Station to the site.
"CDC actively seeks to purchase vacant and brownfield real estate assets in all energy and industrial sectors – and has acquired an accumulative portfolio of over 300 brownfield and environmentally-impacted sites throughout North America. Our acquisition strategy provides win-win solutions for sellers and communities: fair market value for distressed real estate and a fully-funded plan to return vacant and distressed sites back to productive reuse," said Steve Collins, Executive Vice President at CDC.
—
Media Contact: If you would like more information about this project or Commercial Development Company, Inc., please contact John Kowalik (314) 835-2813; jkowalik@cdcco.com.