PRESS RELEASE
June 21, 2017
Commercial Development Company, Inc. begins final demolition stage at the former ASARCO site in Perth Amboy, NJ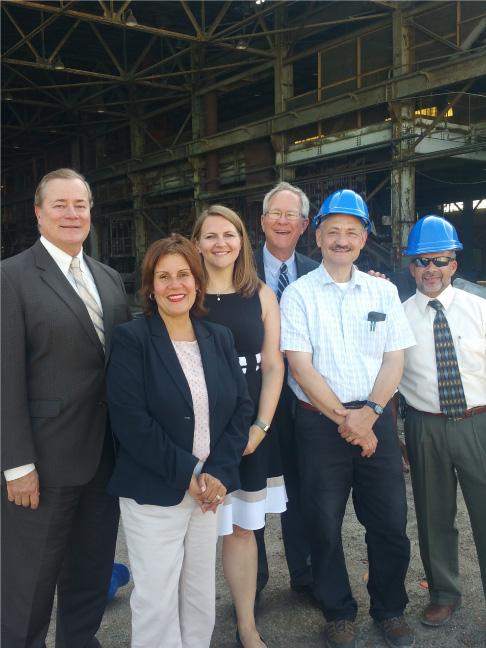 Perth Amboy, NJ – Commercial Development Company Inc. (CDC) announced today final plans for building demolition and environmental cleanup at the former ASARCO property in Perth Amboy, NJ. This milestone paves the way for an additional 1 million square feet of modern industrial buildings at "Bridgeport Logistic Center Phase 2".
Perth Amboy Mayor Wilda Diaz kicked off demolition of the largest building at 1160 State Street today, Wednesday, August 30th at 3:00 p.m. Additional City officials were also in attendance, including board members of Perth Amboy Redevelopment Authority (PARA).
"CDC is pleased to announce its final push to restore this historic site to productive reuse," said Stephen Collins, Executive Vice President at Commercial Development Company. "Since acquiring the site in 2009, CDC has relocated 22 tenants, demolished 13 buildings, and remediated 80 years of environmental residue from ASARCO's metal smelting business."
Among the many daunting challenges was removing 14,000 shipping containers, rebuilding a cell tower, and raising the site to post-Sandy flood elevations.
ENRC will build a perimeter slurry wall this fall, with local business KT Marine serving as a subcontractor. Bridge Development will break ground in March 2018 on two industrial buildings totaling 1,073,000 square feet. This phase 2 project will complete a total of 2.4 million square feet at Bridgeport Logistics Center.
Bridge Development Partners, LLC has invested $180 million for the construction of three warehousing and distribution facilities totaling 1,292,650 square feet where Target has established its first distribution center in the State of New Jersey.
"We are extremely excited to finally begin to move forward with the second phase of our Perth Amboy project. The Phase 1 buildings are nearing completion, are already over 55% leased and employing a large number of Perth Amboy residents. It is wonderful to see the transformation of once blighted properties into a new economic engine for the City of Perth Amboy," said Jeff Milanaik, Principal with Bridge Development Partners.
"The Perth Amboy's Redevelopment Agency (PARA) played a role in promoting and advancing this redevelopment, in addition to the City Council's support on the PILOT program. "Bridgeport Logistics Center" will transform a portion of Perth Amboy's historic shoreline from contaminated Brownfields into a state-of-the-art industrial complex providing great jobs and a stable tax base for the community," said Wilda Diaz, Mayor of Perth Amboy.
The Bridgeport Logistics Center (190 total acres) is located north of the 440 Outerbridge Crossing connecting Staten Island and the New Jersey Turnpike. It also borders the Arthur Kill, a major navigational channel for the Port of New York and Newark, NJ. Several waterfront tenants will remain at the site to serve marine uses.
For 80 years, this industrial site was a smelting and refining facility owned and operated by American Smelting and Refining Company (ASARCO). Since closing its doors in 1979, many tenants and environmental issues prevented redevelopment of the site. CDC acquired the site from ASARCO in 2009 and is pleased to help Perth Amboy redevelop its historic waterfront to provide 21st century jobs and services.
About Commercial Development Company, Inc.
Commercial Development Company, Inc., headquartered in St. Louis, MO, is a privately-held, diversified real estate acquisition and development firm whose principal competency lies within the acquisition, repositioning, and redevelopment of underutilized, distressed or environmentally-challenged properties. CDC's North American acquisition and redevelopment portfolio includes 50-million-square feet under roof located on over 300 sites throughout the United States and Canada. For more information, visit www.cdcco.com.
About Bridge Development Partners, LLC
Bridge Development Partners, LLC develops investment-grade buildings, business parks and acquires land for the development of speculative and build-to-suit projects. They acquire existing Class A and Class B facilities that provide opportunities to add value and operate on a flexible partnership platform. For more information, visit www.bridgedev.com.
About Enterprise Network Resolutions Contracting, LLC (ENRC)
Enterprise Network Resolution Contracting LLC, (ENRC) is a New Jersey-based demolition and environmental remediation services company providing cost effective solutions and hands on know-how to successfully implement onsite remedial activities throughout the northeast and mid-Atlantic region. For more information, visit www.enrcontracting.com.
About the City of Perth Amboy
Perth Amboy, an urban community with rich cultural history and a three hundred year old maritime and industrial legacy, is an interconnection point for major highways, roadways and waterways. The City's position at the confluence of the Raritan River, Arthur Kill, and Raritan Bay provides deep-water access to the Atlantic Ocean for national and international marine traffic. Perth Amboy, presently known for its beautiful waterfront area is located in the center of the State, midway between New York and Philadelphia. Perth Amboy comprises a land area of 4.55 square miles and has a population of 50,814 residents.
For more information, or to schedule an interview with Commercial Development Company, Inc., contact John Kowalik (314) 835-2813; jkowalik@cdcco.com.
For information about the City of Perth Amboy, please contact Public Information Officer, Noelia Colón at 732-826-7121 or email: ncolon@perhamboynj.org