PRESS RELEASE
Commercial Development Company Purchases 65-Acre New Jersey Brownfield, Plans Environmental Clean-up and Redevelopment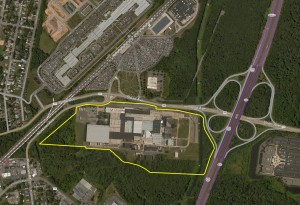 Hamilton, NJ – Commercial Development Company Inc. (CDC), a leading North American commercial real estate and Brownfield redevelopment company, today announces the acquisition of a 65-acre industrial site in Hamilton, NJ from Congoleum, a manufacturer of residential and commercial flooring products. Environmental Liability Transfer, Inc. (ELT), an affiliate of CDC, posted financial assurance and assumed responsibility for legacy environmental liabilities associated with the site and its former operators.
Decades of manufacturing at this location resulted in environmental contamination, which prohibited a traditional real estate transaction. CDC's environmental liability transfer and remediation plan enabled Congoleum to sell their surplus facility, divest legacy environmental liabilities, and guarantee environmental clean-up at the site.
EnviroAnalytics Group (EAG), another CDC affiliate company, will begin remediation and demolish most of the existing structures. EAG is working with an LSRP and the New Jersey Department of Environmental Protection (NJDEP) to finalize a remedial plan under the state's voluntary cleanup program. Following remediation and demolition, CDC will reposition this industrial campus for new vertical development purposes.
Throughout clean-up process, CDC will market the site for commercial and industrial redevelopment, consistent with the highest and best use for this site.
The 65-acre site at 861 Sloan Avenue in Hamilton is adjacent to I-295, the South Jersey Transit Center, and Trenton, NJ. CDC considers this site a prime location for new development. Additionally, the site is located adjacent to the Hamilton NJ Transit Station which provides rail service for 5,000 passengers daily to New York City and Philadelphia.
"The logistical attributes and location of this industrial campus in Hamilton represents a tremendous opportunity for new development, and we are very excited to see the economic and environmental benefits this transaction brings to the area" said Steve Collins, Executive Vice President Commercial Development Company, Inc. "CDC's acquisition and ELT's assumption of environmental risk is the first step toward repurposing and returning this site back into productive use."
This acquisition represents CDC's second ongoing Brownfield clean-up project in New Jersey. In 2009, CDC acquired a 70-acre ASARCO smelting facility in Perth Amboy, NJ. Environmental clean-up is currently underway with plans to transform the blighted area into a new state-of-the-art industrial complex known as "ePort II" in 2017.