PRESS RELEASE
November 8, 2018
CDC Rebrands Former Coal Power Plant as Brayton Point Commerce Center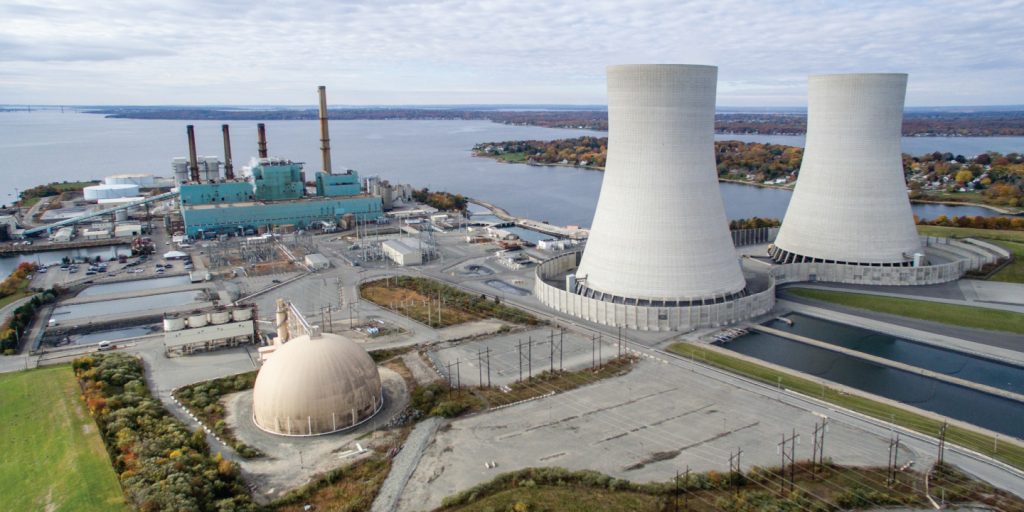 Somerset, MA – Today the owners of the retired Brayton Point Power Station site in Somerset, Massachusetts have announced the site will be rebranded as Brayton Point Commerce Center.
Once the largest coal-fired power plant in New England, the launch of the new brand and logo will help to strategically reposition Brayton Point as a world-class logistics port, manufacturing hub, and support center for the emerging offshore wind energy sector.

To support its rebranding efforts, Commercial Development Company, Inc. (CDC) launched a public website to provide regular updates as the Brayton Point Commerce Center project moves forward. The website will also provide answers to frequently asked questions, photos and videos of the development progress, and other information about the project. The website can be viewed at www.BraytonPointCommerceCenter.com.
Brayton Point LLC, an affiliate of CDC, purchased the 308-acre property in January 2018, and is investing significant resources to transform the site for its highest potential.
For 50 years, Brayton Point was home to a coal-fired power plant that generated 1600 MW of electricity to homes and businesses and was a source of good paying local jobs and tax revenue. This redevelopment project will return Brayton Point to a state of productivity and growth by utilizing many of the same attributes that made the site successful in the past – 300 acres of waterfront property, a deep water port capable of berthing large trans-Atlantic vessels, and access to a strong local talent pool. Additionally, Brayton Point is now located in close proximity to designated offshore wind areas in the Atlantic Ocean.
"We believe the outstanding logistical attributes of Brayton Point combined with public support for energy diversification has created a historic opportunity to help advance the offshore wind energy sector with this development, said Stephen Collins Executive Vice President of Commercial Development Company. "The acreage available will also give the Brayton Point Commerce Center the capacity to accommodate other industries as well."
"By rebranding Brayton Point, we on the state level are now better able to partner with and encourage our private sector contacts to locate here – and most importantly – create jobs for our region", stated House Speaker Pro Tempore Patricia A. Haddad," we are well on our way to reestablishing the site as an economic force for the South Coast as well as to begin restoring lost tax revenues".
"It is exciting to see Brayton Point evolve into the Brayton Point Commerce Center," said Senator Michael J. Rodrigues (D-Westport).  "Adapting this strategically important site to better support the Commonwealth's energy diversification efforts will be beneficial to the area.  Furthermore, Brayton Point is always a topic of conversation, so I am glad that the new website will offer transparency to the community."
About Commercial Development Company, Inc.
Commercial Development Company, Inc. (CDC) is a privately-held, diversified real estate acquisition and development firm whose principal competency lies within the acquisition, repositioning, and redevelopment of underutilized, distressed or environmentally-challenged properties. CDC has purchased and redeveloped over 65-million-square feet under roof located on 300 sites throughout the United States and Canada. For more information, visit www.cdcco.com.
---
Media Contacts: If you would like more information about Commercial Development Company, Inc., please contact John Kowalik (314) 835-2813; jkowalik@cdcco.com.