PRESS RELEASE
October 23, 2018
CDC Completes Des Peres Quarry Redevelopment Project with New 211-Room Marriott Hotel in West St. Louis County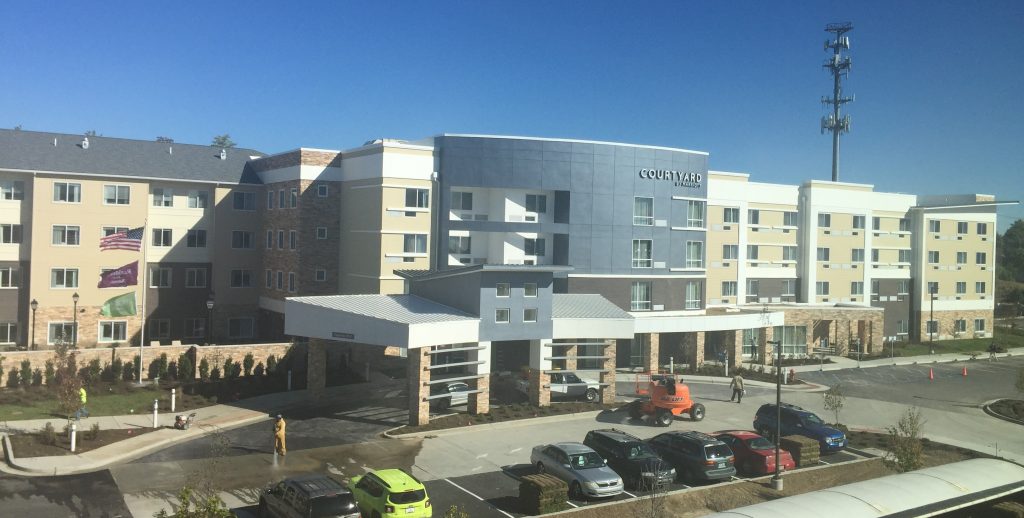 St Louis, MO – Commercial Development Company, Inc. (CDC) has completed the final stage of the Des Peres Quarry redevelopment project in West St. Louis County by completing the construction of a 211-room Marriott Courtyard and Residence Inn hotel. The hotels were developed and are owned by the Roberts' families, CDC principals, who have owned the former quarry property for 25 years.
The dual-branded hotel is located at 12815 Daylight Drive in Des Peres, Missouri and will fill a market void for hotel space along the Manchester Road and Hwy 270 corridor. Hotel amenities include a state-of-the-art fitness center, indoor pool, meeting rooms, outdoor gathering spaces with gas-burning fire pits, and multiple dining options including convenient and upscale. The official opening date is October 22, 2018.
The hotel will be managed by Midas Hospitality, a St. Louis-based hotel management group with a portfolio of 14 other hotels under management across the country. Hotel construction was managed MC Hotel Construction, a general contractor specializing in new hotel construction.
Construction of the hotel is part of a larger development project located at the former quarry site. The development began in 2015 and includes a Provision Living assisted living center, a 254-unit luxury apartment complex, a Marriott Residence Inn and Courtyard Hotel, and 50,000 sq./ft. class-A office building.
CDC's Vision for Reclamation and Redevelopment
In the early 1990s, the 27-acre quarry was an orphaned property in unincorporated St. Louis County, unclaimed by the surrounding municipalities due to blight and safety concerns. The Roberts' families purchased the site in 1994 and began a 20-year process of filling the quarry with inert fill, consisting of asphalt, concrete, sand, rock, and dirt. Approximately 5,250,000 cubic yards of fill material was used to transform the site into one of the most attractive development tracts available at the Highway 270 – Manchester corridor.
In 2015, St. Louis County re-zoned the site for mixed-use purposes, which prepared the way for new development to begin. New construction includes a 60-bed assisted living facility (completed in 2016), a 254-unit luxury apartment complex (completed in 2017), a 211-room Marriott Residence Inn and Courtyard Hotel, (completed in 2018), and the new CDC corporate headquarters – a 50,000 sq/ft. Class-A office building also owned by CDC (completed 2018).
The Roberts' 25-year vision to reclaim the property has transformed a local hazard into a new economic hot spot in St. Louis County.
"This is a privately-financed reclamation of local industrial blight," said Steve Collins, Executive Vice President at CDC. "We see this project not only as a success story for CDC, but as a sign of economic strength for the St. Louis economy – the project has already become a source of new local jobs, attracted new businesses, and has boosted local tax revenues."
The quarry redevelopment project has been privately financed without public assistance.
For more information about CDC or to read about other sustainable redevelopment projects, please visit www.cdcco.com.
---
Media Contacts: If you would like more information about Commercial Development Company, Inc., please contact John Kowalik (314) 835-2813; jkowalik@cdcco.com.