PRESS RELEASE
Brayton Point Cooling Tower Implosion Planned for April 27, 2019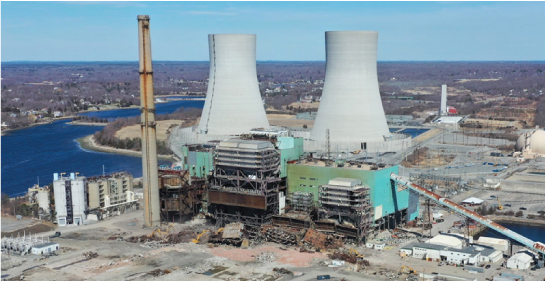 Somerset, MA – Commercial Development Company, Inc. (CDC) and Brayton Point LLC, the owner/developer of the retired Brayton Point Power Station, has announced details for the implosion of the site's two 500-foot cooling towers.
The implosion event will take place around 8:00 a.m. on April 27, 2019.
Once the largest coal-fired power plant in New England, the implosion of the cooling towers at Brayton Point represents a significant milestone towards the development of "Brayton Point Commerce Center" – a world-class logistical port and support center built to support renewable energy and the emerging US offshore wind sector.
Cooling Tower Implosion Details
On April 27, 2019 at 8:00 a.m., the two cooling towers at Brayton Point will be brought down simultaneously by a controlled implosion, and will crumble to the ground in less than 10 seconds. Standing at 500 feet tall, the implosion represents the tallest cooling towers ever imploded worldwide.
In the event of inclement weather, the following day (April 28, 2019) has been reserved as a backup date for the implosion of the cooling towers.
In preparation for this event, CDC has been working closely with multiple stakeholder parties and public officials over the past several months, including: Controlled Demolition Inc., National Grid, the Towns of Somerset, Swansea, and Fall River, the local police and fire departments, the local harbormasters, the Mass DOT, Mass DEP, the US Coast Guard, and others.
To ensure a safe and successful implosion event, there will be road closures, rolling road blocks, maritime traffic controls, and other safety measures in place to prepare the community for the event. For specific information about what to expect before, during, and after the implosion, please reference a list of "Frequently Asked Questions".
Controlled Demolition, Inc. (CDI) has been chosen as the implosion contractor. CDI is a highly-experienced demolition company with has over 60 years of experience. For more information on CDI, please visit www.controlled-demolition.com.
Following the implosion, the concrete rubble left behind will be crushed and beneficially reused onsite in preparation for redevelopment. While operational, the Brayton Point cooling towers were only exposed to water and water vapors.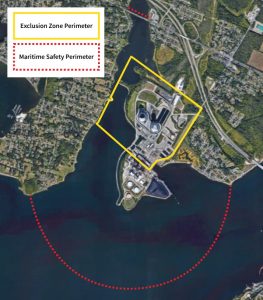 Exclusion Zone Perimeter
CDI has established an exclusion zone at the site on the morning of the implosion, as indicated by a yellow line on the diagram below (Figure 1). No unauthorized personnel shall be permitted to enter this area the day of implosion, and will remain in effect until CDI provides the "all clear."  This exclusion zone applies to all onsite staff, motor vehicles, boats, drones, and any other mode of transportation. Following the implosion, once it is determined that the site is safe and secure, the exclusion zone will be lifted and the areas will reopen to authorized onsite personnel.
Maritime Restrictions
The US Coast Guard has established a maritime safety perimeter for the morning of the implosion, as indicated by the red dashed line in Figure 1. The US Coast Guard, along with harbormasters from Somerset and Fall River, will patrol the area to keep boaters (motorized and non-motorized) at bay. Orange buoys will be deployed in the water to help boaters easily identify the established safe boundary zone whether approaching from Lee River or Mount Hope Bay.
Drone & Helicopter Restrictions
The use of helicopters and drones to film the implosion event will also be restricted by the exclusion zone perimeter. Helicopters must remain a half mile out from the cooling towers and fly no lower than 3,000 ft. Drone and helicopter pilots in violation of these restrictions will be subject to strict fines from multiple regulatory authorities and legal action. Neither CDC nor Brayton Point LLC (or any of its subcontractors) will be liable for damage should the no-fly-zones be knowingly or unknowingly violated.
Media Watch Location
A designated watch point for media has been reserved at O'Neill Field located just north of Brayton Point (O'Neil Field – 591 Brayton Point Rd, Somerset, MA 02725). Media outlets interested in using this location to video the event are encouraged to arrive by or before 6:45 am and to bring telescopic cameras for optimal viewing. Alternate viewing locations throughout the area include multiple public parks and private events throughout the immediate local area. CDC has not designated an official viewing location.
Repositioned for Renewable Energy
In November 2018, CDC announced a rebranding of the site as "Brayton Point Commerce Center." Once the largest coal-fired power plant in New England, the launch of the new brand and logo is intended to strategically reposition Brayton Point as a world-class logistics port, manufacturing hub, and support center for the emerging offshore wind energy sector.
To support its rebranding efforts, Commercial Development Company, Inc. (CDC) launched a public website to provide regular updates as the Brayton Point Commerce Center project moves forward. The website will also provide answers to frequently asked questions, photos and videos of the development progress, and other information about the project. The website can be viewed at www.BraytonPointCommerceCenter.com.
Brayton Point LLC, an affiliate of CDC, purchased the 308-acre property in January 2018, and is investing significant resources to transform the site for its highest potential.
For 50 years, Brayton Point was home to a coal-fired power plant that generated 1600 MW of electricity to homes and businesses and was a source of good paying local jobs and tax revenue. This redevelopment project will return Brayton Point to a state of productivity and growth by utilizing many of the same attributes that made the site successful in the past – 300 acres of waterfront property, a deep water port capable of berthing large trans-Atlantic vessels, and access to a strong local talent pool. Additionally, Brayton Point is now located in close proximity to designated offshore wind areas in the Atlantic Ocean.
"We believe the outstanding logistical attributes of Brayton Point combined with public support for energy diversification has created a historic opportunity to help advance the offshore wind energy sector with this development, said Stephen Collins Executive Vice President of Commercial Development Company. "The acreage available will also give the Brayton Point Commerce Center the capacity to accommodate other industries as well."
Power Plant Demolition
Demolition of the retired Brayton Point Power Station began in September 2018 and is expected to be completed by late 2019. Contractors working for Brayton Point LLC are currently in the process of demolishing power plant buildings and infrastructure. Other repositioning activity has included asbestos abatement, environmental remediation, demolition permitting work, and extensive redevelopment planning. As demolition in large areas is completed, those areas will be restored in preparation for new development.
History of Brayton Point Power Station
Built in 1957 and commissioned in 1963, the Brayton Point Power Station was the largest coal-fired generating station in New England, and was also the last coal-fired power station in Massachusetts to provide power to the regional grid. At its peak, Brayton Point had a capacity of 1,600 MW and employed over 250 full-time staff. The plant boasted four generation units providing electricity to 1.5 million homes using coal and fuel oil over the course of its operations. After over six decades of use, the Brayton Point Power Station stopped producing power in May 2017.
CDC's Power Plant Reclamation Portfolio 
Brayton Point represents CDC's fifth power plant purchase and reclamation project, representing 3200 MW of retired generation capacity. CDC works closely with Environmental Liability Transfer, Inc. (ELT) an affiliate under common ownership which facilitates the transfer of corporate environmental liabilities and decommissioning obligations. To learn more about ELT's power plant portfolio and capabilities, please visit www.ELTransfer.com or download ELT's power plant brochure.
About Commercial Development Company, Inc.
Commercial Development Company, Inc. (CDC) is a privately-held, diversified real estate acquisition and development firm whose principal competency lies with the acquisition, repositioning, and redevelopment of underutilized, distressed, or environmentally-challenged properties. CDC has purchased and redeveloped over 65-million-square feet under roof located on 300 sites throughout the United States and Canada. For more information, visit www.cdcco.com.
Media Contacts:
If you would like more information about Commercial Development Company, Inc., please contact John Kowalik (314) 835-2813 / jkowalik@cdcco.com.