PRESS RELEASE
ELT Assumes Environmental Liabilities at Shuttered Chemical Plant, Plans Environmental Remediation and Redevelopment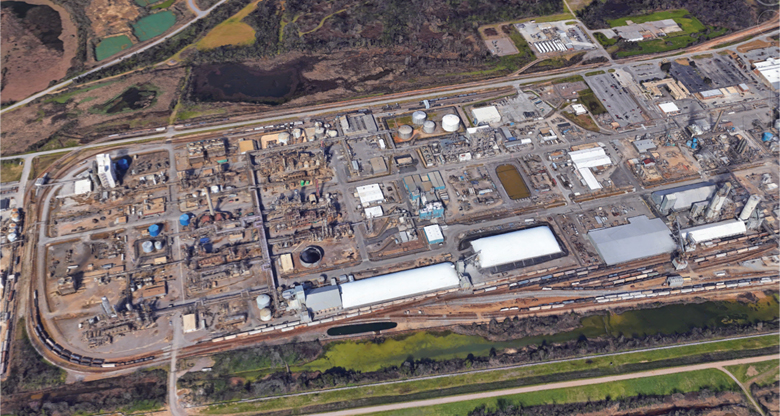 Augusta, GA – Environmental Liability Transfer, Inc. (ELT), a leading environmental risk management and brownfield development company, today announced the assumption of legacy environmental liabilities and the purchase of real estate and plant assets at the shuttered Fibrant, LLC chemical manufacturing plant located in Augusta, Georgia.
The sprawling 600-acre complex will now be entered in to a cleanup program designed to reposition the former chemical plant for new utilization. Preliminary activity is expected to include environmental remediation, demolition of antiquated plant facilities, liquidation of surplus equipment, and extensive redevelopment planning. ELT affiliate Commercial Development Company, Inc. (CDC) will manage the marketing and redevelopment planning at the site.
The transaction occurred out of the U.S. Bankruptcy Court for the Southern District of Georgia and included the purchase of real estate assets and the assumption of legacy environmental liabilities. The transaction also required approvals from the Environmental Protection Agency (EPA) and Georgia Environmental Protection Division (EPD).
ELT affiliate EnviroAnalytics Group LLC is now working with the Georgia EPD to finalize a remedial course of action to resolve environmental impact from past operations.
The retired Fibrant facility has unique features and logistical attributes that CDC believes represents potential for new development for Augusta, Richmond County, and the surrounding areas. Currently the manufacturing campus remains intact with over 150,000 square feet of offices, warehouses, training rooms, conference rooms, laboratories, and other buildings. Development planning will determine highest and best use for the existing facilities.
"This is yet another great example of ELT's environmental liability buyout and business expertise bringing a comprehensive solution to the table to meet multiple stakeholder needs," said Jim Vetter, Managing Director at Marsh USA who placed the environmental insurances for the transaction.
The former chemical manufacturing plant began operations in 1966 and closed in 2018. For 50 years the site was used by multiple companies to manufacture caprolactam and other specialty chemical products. The facility is located in an industrial corridor located in south east Augusta. With easy access to highways and airports, heavy power, access to rail, and located within 10 minutes of Augusta Regional-Bush Airport, CDC considers the former chemical manufacturing site an excellent candidate for brownfield cleanup and development.
Economic Opportunity Zone
The site's location has been designated, under the federal Tax Cuts and Jobs Act of 2017, as one of the state's Opportunity Zones (OZ). This designation provides tax incentives for long-term investment in the redevelopment of the site that could assist parties interested in locating operations to the former chemical manufacturing site.
"We consider the former Fibrant site in Augusta to be a tremendous opportunity for new development, and we are looking forward to the environmental and economic benefits this transaction brings to the area" said Mark Hinds, Executive Vice President at ELT.
---
About Environmental Liability Transfer, Inc.
Environmental Liability Transfer, Inc., (ELT) is a comprehensive, environmental liability assumption company providing its clients complete and final environmental liability transference services.  ELT has successfully assumed and abated over $1.5 billion in corporate environmental liability throughout North America. For more information, visit www.eltransfer.com.
 About Commercial Development Company, Inc.
Commercial Development Company, Inc. (CDC) is a privately-held, diversified real estate acquisition and development firm whose principal competency lies within the acquisition, repositioning, and redevelopment of underutilized, distressed or environmentally-challenged properties. CDC's sustainable redevelopment projects have played a transformative role in bringing hundreds of North American sites out of blight and back to productive reuse. For more information, visit www.cdcco.com.
About EnviroAnalytics Group LLC
EnviroAnalytics Group, LLC (EAG), an affiliate company of Commercial Development Company, Inc., provides consulting and management services on environmentally impacted real estate to corporations, law firms, accounting firms, lenders, municipalities, and institutions throughout North America. For more information, visit www.enviroanalyticsgroup.com.
Media Contacts: For more information about ELT, CDC, or related projects and companies, please contact John Kowalik (314) 835-2813 / jkowalik@cdcco.com.