PRESS RELEASE
August 13, 2018
Commercial Development Company, Inc. Builds New Corporate Headquarters on Reclaimed Brownfield Site in St. Louis County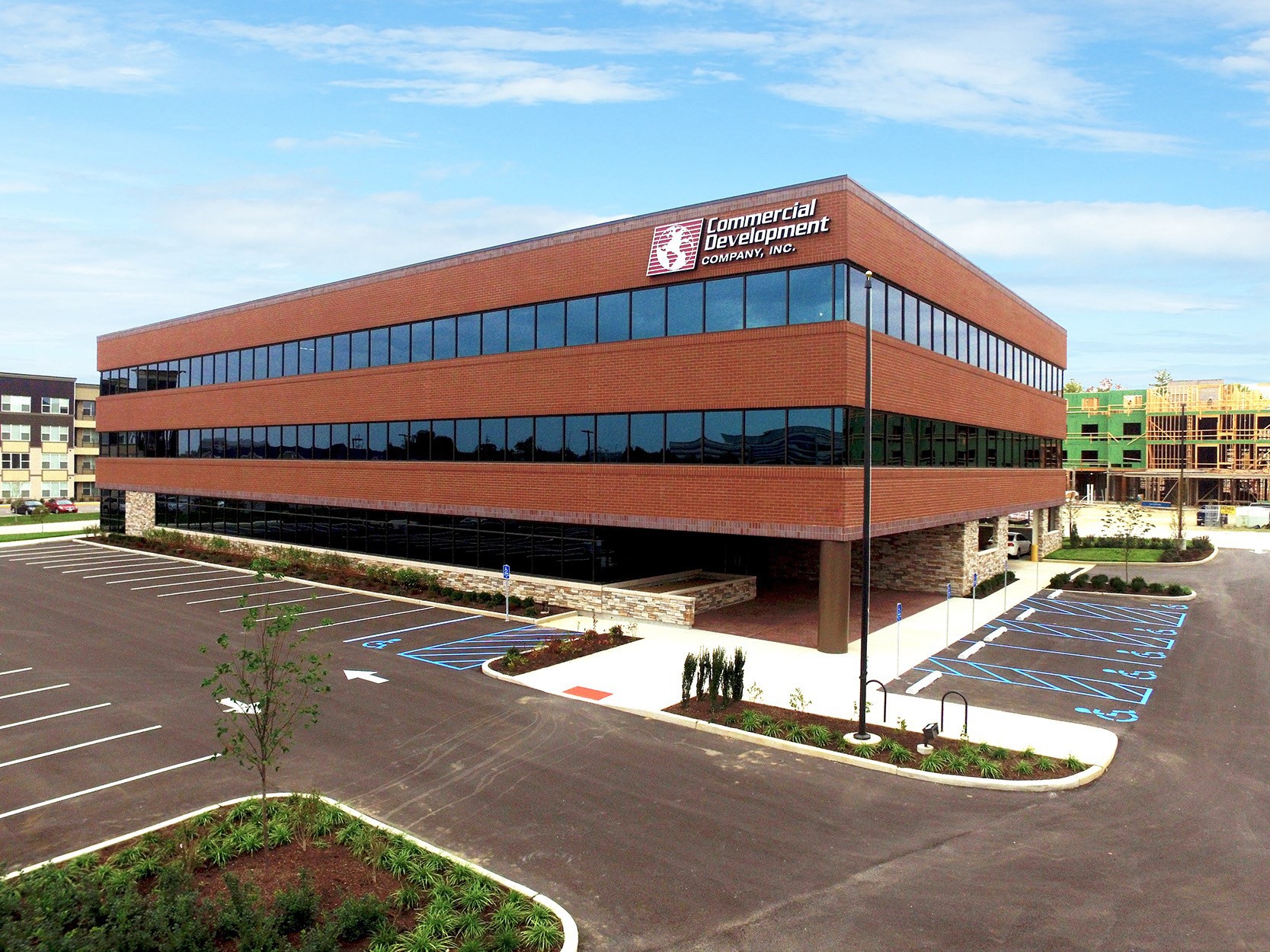 St. Louis, MO – Commercial Development Company, Inc. (CDC), a leading North American brownfield redevelopment company has moved their corporate headquarters to a former brownfield site in St. Louis County, Missouri – redeveloped after 20 years of environmental reclamation.
The new 50,000 sq/ft Class-A office building will be used as the corporate headquarters for CDC, as well as four wholly-owned affiliate companies that collaborate with CDC on large brownfield remediation and redevelopment projects – Environmental Liability Transfer, Inc. (ELT), EnviroAnalytics Group LLC (EAG), Industrial Demolition LLC, and Industrial Recovery LLC. All five companies work to clean environmentally-impacted real estate and reposition distressed sites for new sustainable development.
The construction of CDC's new corporate headquarters is part of a larger development project located at the Manchester and Highway 270 corridor in Des Peres, Missouri. The development began in 2015 and includes a Provision Living assisted living center, a 254-unit luxury apartment complex, a Marriott Residence Inn and Courtyard Hotel, and 50,000 sq./ft. class-A office building.
The Marriott Residence Inn and Courtyard Hotel will have 211-room capacity and fill a local market void for hotel space in the area. The hotel development is scheduled to open in the fall of 2018 and is also owned and being built by CDC.
CDC's Vision for Reclamation and Redevelopment
In the early 1990s, this site was home to the Des Peres Quarry. The 27-acre quarry was an orphaned property in unincorporated St. Louis County, unclaimed by the surrounding municipalities due to blight and safety concerns. CDC purchased the site in 1994 and began a 20-year process of filling the quarry with inert fill, consisting of asphalt, concrete, sand, rock, and dirt. Approximately 5,250,000 cubic yards of fill material was used to transform the site into one of the most attractive development tracts available at the Highway 270 – Manchester corridor.

In 2015, St. Louis County re-zoned the site for mixed-use purposes, which prepared the way for new development projects to begin. New construction on the former quarry site includes:
A 60-bed assisted living facility, completed in 2016
A 254-unit luxury apartment complex, completed in 2017
A 211-room Marriott Residence Inn and Courtyard Hotel, owned by CDC, to be opened in fall 2018
The new CDC headquarters – a 50,000 sq/ft. Class-A office building owned by CDC.
CDC's 20-year vision to reclaim the property has transformed a local hazard into a new economic hot spot in St. Louis County.
"This is a privately-financed reclamation of local industrial blight," said Steve Collins, Executive Vice President at CDC. "We see this project not only as a success story for CDC, but as a sign of economic strength for the St. Louis economy – the project has already become a source of new local jobs, attracted new businesses, and has boosted local tax revenues."
The Des Peres development project is being privately financed without public assistance. Total costs for the project are expected to exceed $100 million.
Construction Time Lapse
A time lapse of the construction process can be seen below:
New Office Space Currently Available
CDC is occupying the third floor of the newly constructed office building, and reserving certain portions of the building for expansion. However, over 25,000 sq/ft of new office space is available for lease on the first and second floors.  Interested parties can contact Kevin McLaughlin (Newark Grubb Zimmer) for more information or to schedule a building tour. (314) 628-0436 / kmclaughlin@ngzimmer.com.
CDC's Recent Brownfield Reclamation Projects
Over the past 25 years, CDC has purchased and remediated over 300 environmentally-impacted sites in North America. Some of CDC's recent brownfield development projects include:
Brayton Point Power Station: In January 2018, CDC purchased the Brayton Point Power Station – a retired 1600 MW coal-fired power plant on the south coast of Massachusetts. CDC will now invest significant resources to dramatically transform the waterfront property and prepare it for post-coal utilization. Pre-development activity will include asbestos abatement, environmental remediation, and demolition of coal-related infrastructure on the site. CDC is currently working with local officials and offshore wind developers to develop a large offshore wind energy logistical hub at the site. Read More 
Tanners Creek Power Plant: In 2016, CDC purchased the Tanners Creek Power Plant – a retired 1000 MW coal-fired power plant in south Indiana. Since acquiring the 725-acre site, CDC has been engaged in environmental remediation and development planning to prepare the site for reutilization. Today the site is under contract to be sold to the state of Indiana for the development of a major port development along the Ohio River. This project has received tremendous support from state leadership, including former Gov. Mike Pence who said this development "could unleash enormous economic investment throughout the southeast region of our state." Read More »
General Motors Janesville Assembly Plant: In December 2017, CDC purchased the historic Janesville Assembly Plant from General Motors. With 4.8 million sq/ft of buildings under roof, the "Janesville Assembly Plant" was once the largest General Motors automotive plant in the world. CDC will now invest significant resources to reposition the 250-acre industrial property for new utilization. Preliminary activity will include asbestos abatement, demolition, environmental remediation, and extensive redevelopment planning. Watch project update video: https://youtu.be/CEAv-JFPIr0
Media Contacts: If you would like more information about Commercial Development Company, Inc., please contact John Kowalik (314) 835-2813; jkowalik@cdcco.com.